pro-president
Miguel Júlio Teixeira Guerreiro Jerónimo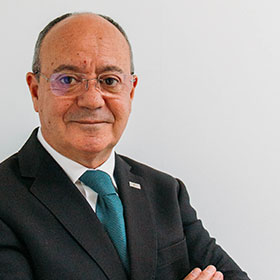 EMAIL
miguel.jeronimo@ipleiria.pt
Miguel Jerónimo is Pro-President for Students, Citizenship and Social Responsibility of Politécnico de Leiria since 2019. He is also part of the Research Centre on Educational Politics and Systems' Scientific Council.
He holds a bachelor's degree in History (University of Coimbra, 1987), a bachelor's degree in School Organisation and Management (Politécnico de Leiria, 1997), and a PhD in Education Sciences – Teacher Training, Didactics and School Organization (Universidad de Extremadura, Spain, 2011).
From 2005 until 2019, Miguel administrated the Social Services of Politécnico de Leiria. Among other things, he was responsible for the supervision and distribution of scholarships and other financial support services for students, and the management of the food, accommodation and health services.
He has professional experience in teaching, librarianship, public relations and international cooperation offices at Politécnico de Leiria.
Miguel has participated in several national and international projects focused on promoting students' equal opportunities when it comes to admission, attendance to classes and activities and achievement of academic success. His main research interests include social responsibility, inclusion and well-being in higher education institutions.