Vice-president
Rita Alexandra Dias Cadima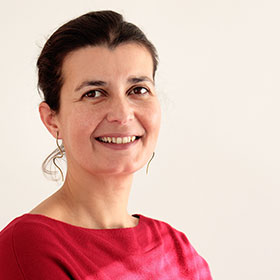 school
School of Education and Social Sciences
Rita Cadima is vice-president of Politécnico de Leiria and a member of our Management Council and Academic Council since 2014. From 2013 until 2018, she was Director of the Distance Learning Unit (UED).
Rita Cadima holds a PhD in Multimedia Engineering (Universitat Politécnica de Catalunya, Spain) and a master's degree in Maths (University of Porto).
She started teaching at the School of Education and Social Sciences of Politécnico de Leiria in 2000. Along with teaching responsibilities, she was programme coordinator of the Master's Degree in Pedagogical Use of ICT (2010-2014), member of the Representatives Council (2004-2009), Scientific Council (2010-2013) and Pedagogical Council (2004-2009; 2013-2014).
Simultaneously, Rita is a member of the Centre for Studies in Education and Innovation and her main research interests include Computer-Supported Cooperative Work; Computer-Supported Collaborative Learning; Innovation and Knowledge Sharing in Learning Organizations; Social Network Analysis and Monitoring Systems, Quality Assessment and Assurance in eLearning; and Learning Maths.