President
Rui Filipe Pinto Pedrosa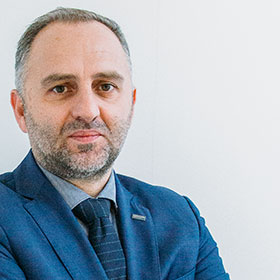 school
School of Tourism and Maritime Technology
Rui Pedrosa holds a bachelor's degree in Biochemistry (University of Coimbra), a master's degree in Cellular Biology (University of Coimbra), and a PhD in Human Biology (University of Porto).
In 2018, Rui Pedrosa was elected president of Politécnico de Leiria, where he was also a coordinator professor at the School of Tourism and Maritime Technology (ESTM) and Principal Researcher at the Marine and Environmental Sciences Research Centre (MARE).
From 2014 until 2018, Rui Pedrosa was vice-president of Politécnico de Leiria for Business and Innovation. Previously, he had been Head of the Marine Resources Research Group from 2008 until 2014. Along with these management and administrative positions, he published more than 100 papers and acquired experience in science communication, research project coordination and internationalization. Moreover, Rui has been awarded various prizes and distinctions regarding his scientific activity.
In addition, he has held multiples administrative roles within public and private organisations. Currently, he is also vice-president of the Business Association of the Leiria Region (NERLEI) since 2019.