Pro-president
Rui Pedro Charters Lopes Rijo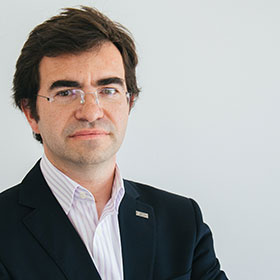 school
School of Technology and Management
Rui Rijo is Pro-President and Associate Professor in Informatics at Politécnico de Leiria.
He holds a PhD in Computer Science (University of Trás-os-Montes and Alto Douro) and a bachelor's degree in Informatics Engineering (University of Lisbon).
He was general chair at the International Conference on Health and Social Care Information Systems and Technologies, associate editor at the International Journal of Web Portals, and editor at the International Journal of E-Health and Medical Communications.
Rui was senior consultant for more than 10 years in different cities across the globe (Tokyo, Macau, Hong Kong, São Paulo, Kuala Lumpur, Madrid, Amsterdam, and Lisbon). He also authored many conference and journal articles and book chapters.
His main research interests comprise software engineering (including project management) and health information systems.