Pro-president
Samuel José Travassos Rama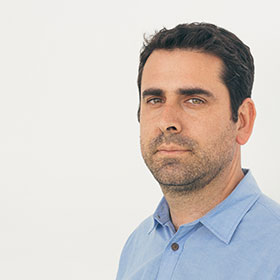 school
School of Arts and Design
Samuel Rama is Pro-President of Politécnico de Leiria, where he has been teaching fine arts since 2003. From 2014 until 2018, he was Deputy Dean of the School of Arts and Design, having once worked as Interim Dean of that school during that period. Samuel is also member of the Scientific Council and Representatives Council of ESAD.CR.
He holds a bachelor's degree in Fine Arts (Politécnico de Leiria) and a PhD in Visual Arts and Intermedia (Universitat Politècnica de València, Spain).
Since Samuel joined Politécnico de Leiria, he has organised various art exhibitions in institutions of reference in Portugal. He is also a researcher at the Research Laboratory in Design and Arts (LIDA).
His independent work has been displayed in collective exhibitions at Calouste Gulbenkian Foundation, Centro Cultural de Belém, Centro de Arte Manuel de Brito, Circulo de Belas Artes de Madrid (Madrid, Spain), Centro de Arte Hélio Oiticica (Rio de Janeiro, Brazil), and others.