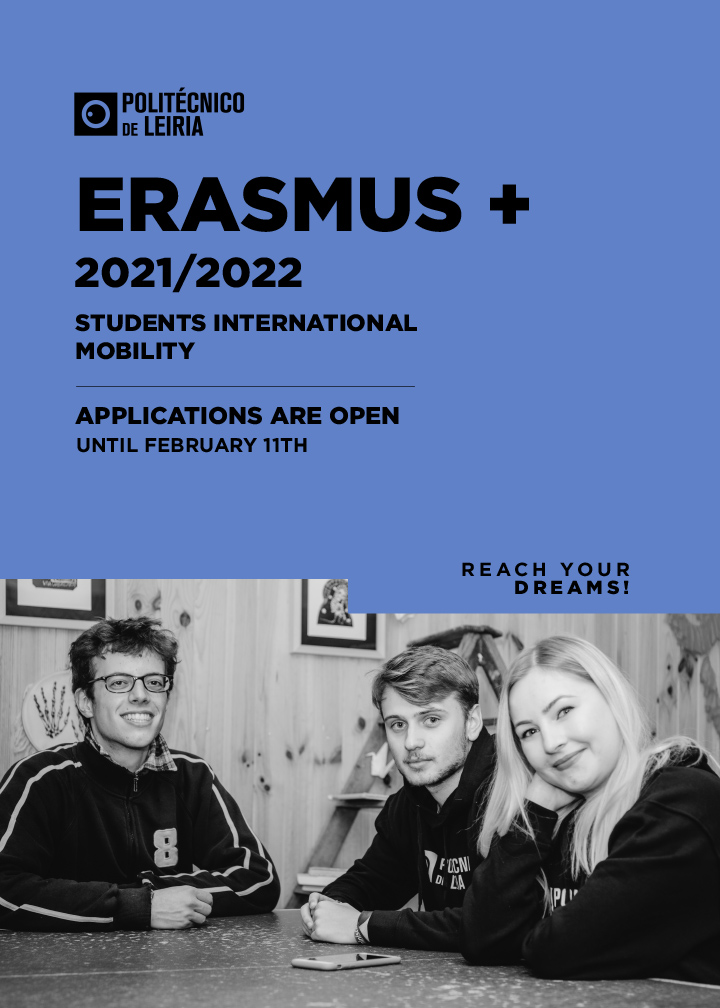 ERASMUS+ APPLICATIONS
INTERNATIONAL MOBILITY FOR STUDIES – ACADEMIC YEAR 2021/2022
Applications until 11th February
Dear Student,
The application period for the Erasmus + mobility program for undergraduate and master students is open until the 11th February 2021. You can benefit from an international experience by taking a period of study at a higher education institution in the European Union.
The mobility for studies includes a grant, depending on the country you choose for your Exchange program, whether it is in the 1st or 2nd semester of the academic year 2021/2022.
This is a unique opportunity to improve your language skills, get to know new cultures and it proves to be an asset for your personal development and your curriculum, since these 'out-of-doors' experiences are highly valued in the professional world.
Visit the Polytechnic of Leiria website at www.ipleiria.pt to find out more information about the programme, universities abroad and also how you can submit your online application.
Don't hesitate, apply for Erasmus+!
+ INFO: gmci@ipleiria.pt
Note: You should contact your School's International Office to obtain more detailed information on how the Erasmus+ Programme works.