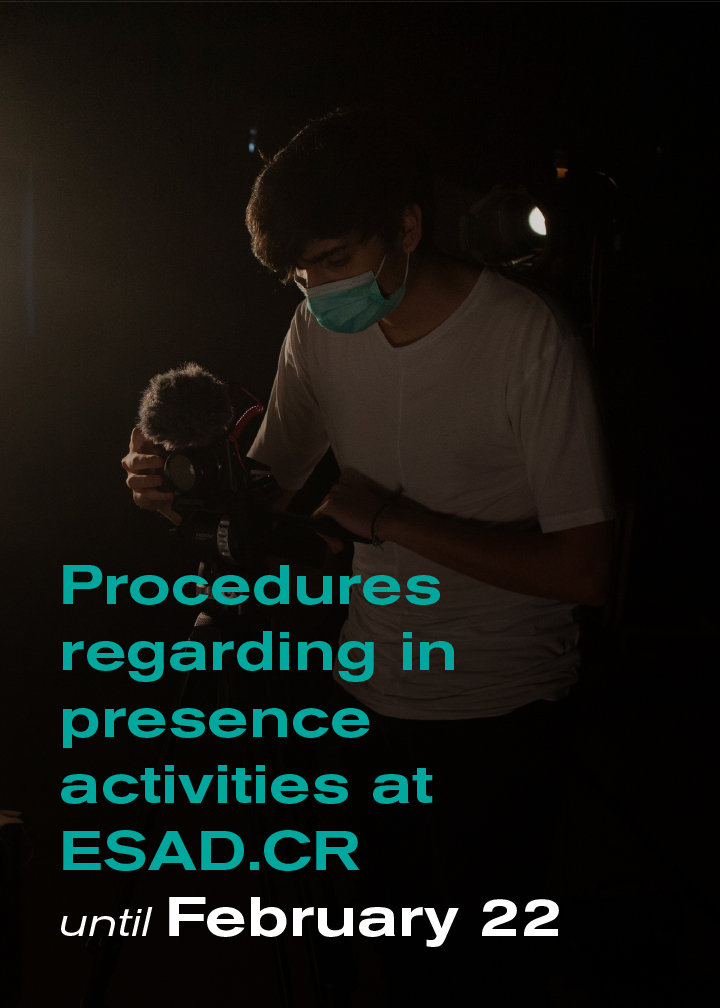 Procedures regarding in-presence activities at ESAD.CR
Due to the pandemic situation, school services are reduced until the 9th of February.
All in-presence teaching and non-teaching activities are interrupted.
Final assessments, exams and master's public presentations are carried out exclusively online.
Permanence in ESAD.CR buildings cannot exceed the time strictly necessary to:
Collecting of works for final evaluation, exam or scheduled master's public presentations,
Collecting or return of materials or equipment required for the completion of work subject to evaluation in this academic semester. The request is made through a confirmed reservation, through the email of the workshop or laboratory,
Exceptionally, delivery of materials to be fired in the ceramics workshop ovens, necessary for final evaluation or examination, is allowed. By prior appointment confirmed, via the workshop email.
Access to defined spaces, with internet available, through the use of personal equipment or with computers of common use and internet connection is allowed by prior authorization, through the email gop.esad@ipleiria.pt.
The canteen is open at lunch time exclusively on a take-away basis, to provide lunches and dinners.
The Library will remain open to the public at reduced hours (9 am to 6 pm), from next January 25, 2021 until February 19, 2021.
We hope that the pandemic situation will change for the better, and that future proceedings are about reinforcing caution when returning to in-presence activities. It depends on each and every one of us.
It's time to strengthen our spirit of mutual aid, so that together we can make these weeks better.