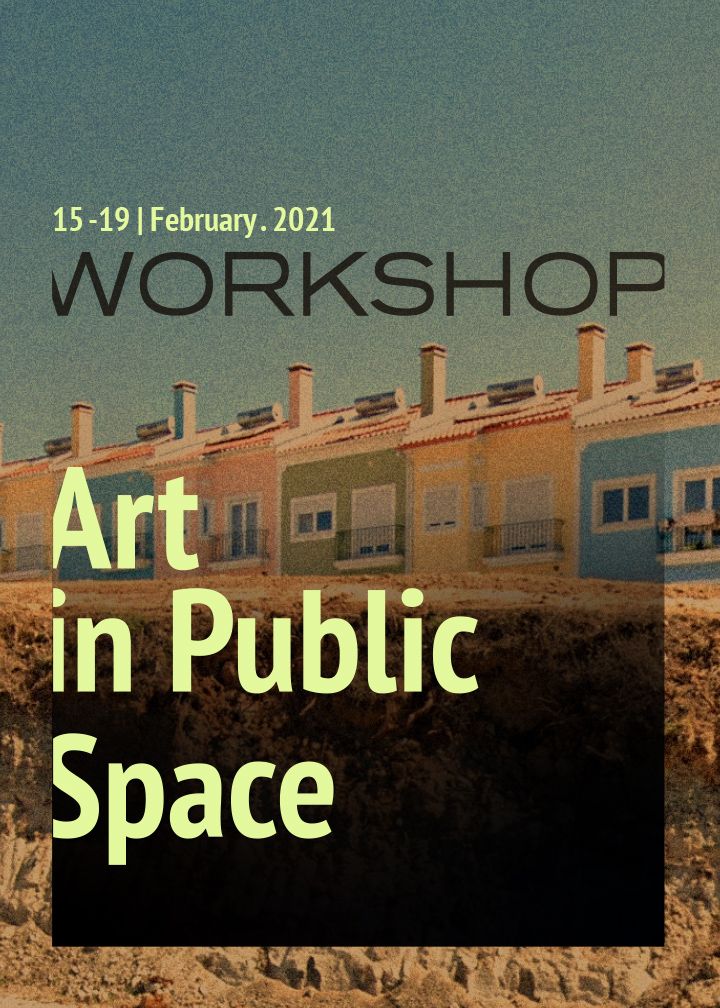 Workshop – art in public space
Workshop – art in public space, for Sol Nascente. The School of Arts and Design of Caldas da Rainha (ESAD.CR), in close cooperation with the Local Parish of Nossa Sra. Do Pópulo, Coto and St. Gregory, promotes between 15 and 19 February, the workshop – art in public space, aimed at students of the Master in Fine Arts. This workshop arises from a challenge to carry out an artistic work to be located on a plot of land, known as Sol Nascente, in recovery for use as a green space in Caldas da Rainha. The workshop takes place online and in the studio / home of each participant, under the guidance of Francisco Pinheiro, artist, and Ricardo Camacho, architect. At the end of the workshop, the project to be executed on site is selected.
FRANCISCO PINHEIRO
Francisco Pinheiro is a visual artist and his practice stems from narratives associated with a particular territory, summoned in installations, videos, texts and performances.
Selected exhibitions and participations: COSMO/POLÍTICA#6 (curated by de Sandra V. Jürgens e Paula Batista), Neo-Realismo Museum , Vila F. Xira (2020); Por um lugar nosso comum – walk and publication to Catarina Botelho's exhibition at Pavilhão Branco, Lisbon (2020); Appleton [BOX], Lisboa (2019); 4th edition of Lisboa Soa – sound art festival (2019); FUSO/Video Art Festival, Lisbon (2019); collective show Not yet the Sea (curated by Óscar Faria),Corpus Christi Convent, Gaia (2018); Desarvorar, curated by Carolina Trigueiros, Exquisito Festival / Orlando Ribeiro Library, Lisbon (2018); solo show Clinamen, Águas Livres 8 Gallery, Lisbon (2017); collective show Os Índios da Meia-Praia (curated by Nuno Faria), 111 Gallery, Lisbon (2016); solo show Under a sun of needles at Camões Institute, Lisbon (2016); Mudar para que nada mude, with West Coast collective, Espelho d' Água Space, Belém (2015); collective show The Sand Reckoner, Diego Rivera Gallery, San Francisco, EUA (2013). Worthy of mention, his artist-in-residency at Kendall College of Art and Design (2016 | Michigan, EUA) in which came out the installation Grand River, shown at the exhibition CITY FLUX: Art, Architecture & Grand Rapids (curated by Julia Victor), at ArtPrize 8.
In 2018 it was launched KAMAL: Francisco Pinheiro, his first book published by Sistema Solar and supported by Carmona e Costa Foundation.
Francisco co-founded the West Coast collective (2014), from which he has been creating, coordinating and producing different projects, namely Guarda-Rios (which is currently on going). West Coast is an art collective, working on issues related with territory and its different dimensions – aesthetic, cultural, social, environmental.
In 2013, he was a teaching assistant of the artist Laetitia Sonami at the San Francisco Art Institute – Sonic City Sound Lab class. Since 2010, he has been creating workshops on drawing, performance, sound and visual arts at Casa da Cerca, Manuel Brito Art Center or Elvas Museum of Contemporary Art, among other places. In 2008, he worked as a set designer at the Volksbühne Theater in Berlin, in plays by Meg Stuart, Frank Castorf, Jonathan Meese and Thiago Bortolozzo.
He holds a master's degree in New Genres from the San Francisco Art Institute (USA, 2014) as a Fulbright / Carmona e Costa Foundation grantee and a degree in Painting from the Faculty of Fine Arts of the University of Lisbon (2005).
RICARDO CAMACHO
Ricardo Camacho, architect with professional practice in Portugal and the Middle East, was a professor at the University of Kuwait and Northeastern Univ. in Boston. He is a graduate of the Faculty of Architecture of Lisbon, an MArch11 at the Graduate School of Design, Harvard University and a PhD candidate at the Univ. of Coimbra, with a particular interest in the work of architect António Teixeira Guerra (1929-2012), author of the first building complex at Qt.do Lago, Algarve. Ricardo is responsible for contents with particular interest in the Algarve Tourism phenomenon, work published in Portugal, USA, England and Croatia, and co-author of research projects between 2004 and 2014, namely "CasaGranturismo" in Silves, the academic program "Resilient Coastal Environments", which took place between Algarve, Coimbra, Dalmatia and Massachusetts, and the co-curatorship of the program "Habitar Portugal 2006/2009″ as commissioner for the South. In 2012 he was curator at the first Kuwait representation at the Venice Architecture Biennale, co-author of two volumes " Modern Architecture Kuwait 1949-1989 ", Niggli 2016 and 2018, " PanArab Modernism 1968-2018: The History of Architectural Practice in the Middle East ", Actar 2020, and regular columnist for the local daily 'Arab Times' . As an author he was nominated for the AKAA Aga Khan Award for Architecture, 2014-2016 cycle with the project AlShaheed Park in Kuwait.
ZENOVIA TOLOUDI
Zenovia Toloudi is an architect, an artist, and Assistant Professor of Architecture at Studio Art, Dartmouth College. Her work critiques the contemporary alienation of humans from nature and sociability in architecture and in public space, and investigates spatial typologies to reestablish cohabitation, inclusion and participation through digital, physical, and organic media. The founder of Studio Z, a creative research practice on art, architecture and urbanism, Zenovia has exhibited internationally, including at the Biennale in Venice, Le Lieu Unique in Nantes, France, the Center for Architecture in New York, the Athens Byzantine Museum, the Thessaloniki Biennale of Contemporary Art, and the Onassis Cultural Center in Athens, Greece. She has won commissions from Illuminus Boston, and The Lab at Harvard. Zenovia's work belongs to permanent collections at Aristotle University (AUTh), and the Thracian Pinacotheca.
Zenovia has been an invited speaker on topics of spatial light, art installations, bioart, and bioarchitecture at venues such as the Light InSight interdisciplinary lecture series at New England College of Optometry, the International Symposium for Electronic Arts, the MIT Media Lab, the MIT Museum, the Aga Khan Symposium, the AIAS Forum, and the International Making Cities Livable Conference. Her writings on bioarchitecture, the vernacular, and art/architecture installations were published in Routledge, Technoetic Arts, MAS Context and Organs Everywhere. Zenovia's recent analysis on 21st century public space crisis, published by The Conversation, was republished in more than 30 venues, and was featured by The Aspen Institute.
Zenovia's work has appeared internationally in press including at Artdaily and Artnews. She was interviewed by The Matt Townsend Show, BYU Radio on public space crisis; by Delta TV with one episode on her practice; by Vimagazino for her latest project on future architecture and agriculture; and multiple times by The Dartmouth for her practice, pedagogy, and vision. Zenovia is the recipient of The Class of 1962 Fellowship. She was a Public Voices Fellow, a Research Fellow at Art, Culture, and Technology Program at MIT, and a Fulbright Fellow. In 2011, Zenovia received her Doctor of Design degree from Harvard's GSD, a Master's of Architecture degree at the Illinois Institute of Technology (2006), and in 2003, she graduated from the AUTh in Architectural Engineering.