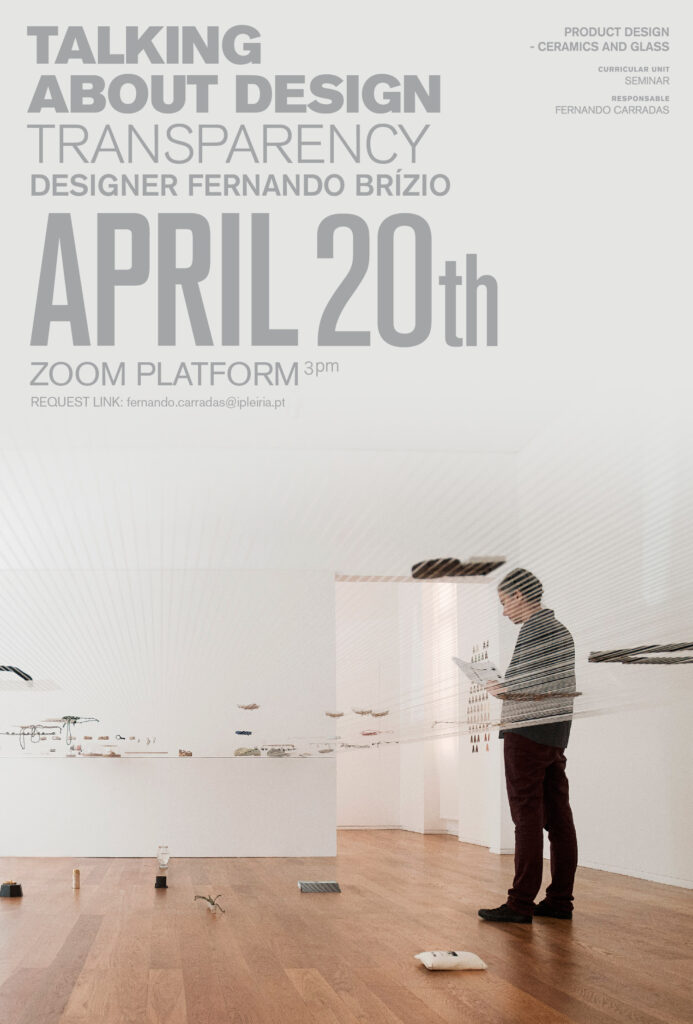 Design Talks – Transparency
The class prepared for the Seminar subject of the degree in Ceramic Product Design at ESAD.CR, entitled Transparency, will focus on strategies of dematerialization, lightness and budgetary restraint used in the construction of spaces.
General objectives
Support the development of individual projects in the scope of Final Project and Integrated Project in Company

Pedagogical objectives
Identification and analysis of the following aspects:
-Concepts
-Project practices vs Materials vs Production methods
-Products/Works
Fernando Brízio has a degree in Equipment Design from the Faculty of Fine Arts of the University of Lisbon, and a specialist degree in Product Design and Technology from the University of Aveiro. He was coordinator of the Scientific Design Area, of the Degree in Industrial Design and of the Master in Product Design at ESAD.CR. His work, sometimes developed independently of the commission, includes objects, exhibitions, scenarios, interior spaces and exhibition curatorship, and has been published internationally. He has exhibited and participated in juries and conferences inside and outside the country. He is part of the permanent collections of MUDE – Museu do Design e da Moda, Lisbon, and of IMA – Indianapolis Museum of Art, among others.