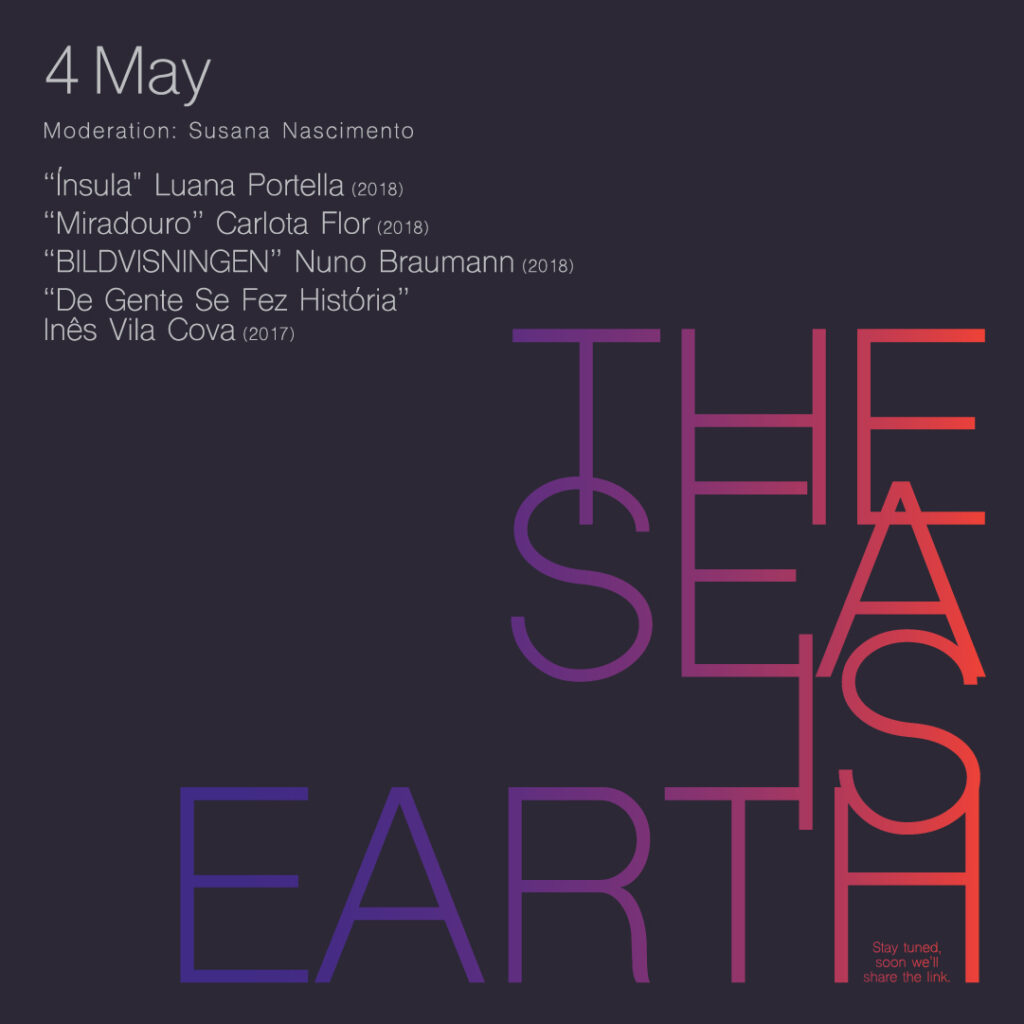 The Sea is the Earth – session 2
Acess online event – https://europa.zoom.us/j/88518619469?pwd=ZjVST1Q1cTVxYnk4bVlocGxGL1JmQT09
The texture on the margins
Island, by Luana Portella, 2018
A sober and intimate film, which shows us the confinement as a place to reflect on freedom. Luana Portella follows the artistic process of Catarina Fragueiro, a young artist and student of Fine Arts who reflects on the meanings that transform the world while guiding us through the margins of her work in the studio.
Belvedere, Carlota Flor, 2018
Journey of relentless discovery of the body-place. The film begins with the dirty camera and the muffled sound of a car engine that turns into a voice and sound of the sea. We discover ourselves in the other's feet walk to the sea, and return hanging on the other's body. As body on camera, we feel the world very close, as rough texture, sensual and attached to the other's body, or ours?. The film talks about a place-body and the site it creates through occupation. From the viewer body we observe the others'.
BILDVISNINGEN, Nuno Braumann, 2018
Silent film about time or the deferment between landscapes.
From people history was made, Inês Vila Flor, 2017
Documentary film about the life at the Caxinas community, starting from family accounts. Resorting to the non-linear crossing of recorded memories, Inês Vila Flor adds another texture to the narrative of this place transformed by time. The image of the wrapped net or the rope in the museum, illustrates the unity that is constituted by so many people and so many stories used to death. In Caxinas, Easter has a deep meaning. History of what the image and the time can do to a body-camera in the hand.