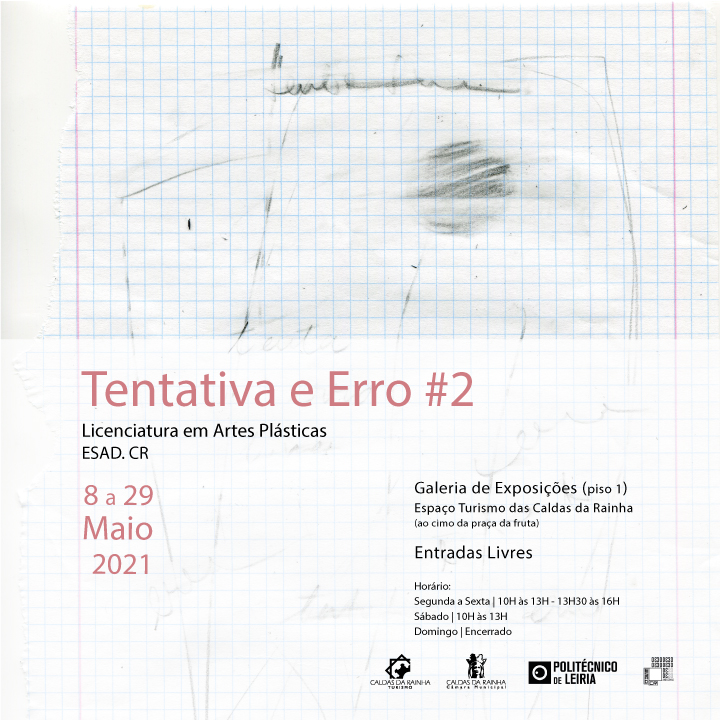 Trial and Error # 2 
Exhibition Gallery (1st floor)
Caldas da Rainha Tourism Office 
8 – 29 May 2021 
Monday to Friday | 10h-13h and 13h30h-16h 
Saturday | 10 am-1pm 
Trial and Error II is an exhibition project that presents works by 3rd year students of ESAD. CR Fine Arts Course. It is part of the Advanced Project Curricular program.
It is intended with this experience, to articulate multiple constructive, aesthetic, critical processes, inherent to the artistic practice, to provide moments of experimentation, to foster autonomy, to test results and to share our activities with the outside community.
The artistic gesture presupposes freedom and resistance, it is born from a subjective perspective, it cannot be delegated and this explains the uniqueness of the artistic knowledge.
PARTICIPANTS
Daniela Silva, Denise Soares, Filipe Pereira, Inês Garcias, Gabriela Marques, Joana Assunção, Maria Fradinho, Rafaela Silva, Sofia Cabañas, Sofia Moço Novo.