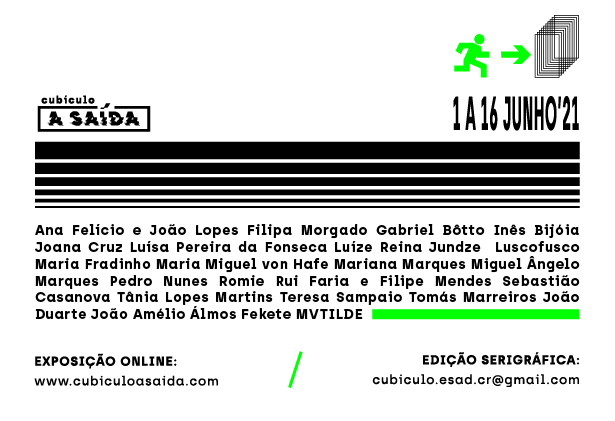 CUBÍCULO: THE EXIT
Online exhibition and silkscreen edition
1st to 16th of June 2021
www.cubiculoasaida.com
For the 6th edition of Cubículo, an open call was launched to students and recent alumni of ESAD.CR, aimed to present a portrait, albeit indirect, of artistic production in the context of successive confinement and distancing, in a period of strong constraint of personal liberties and increase of intolerances, but also of awakening and reshaping of consciousness.
This call results in the project Cubíclo: The Exit. A multidisciplinary exhibition that crosses different areas of discourse in ESAD.CR, through an experimental curatorial exercise, where video, drawing, photography, sound and painting, converge in a dual proposal of on-line gallery and silkscreen post mail edition.
The program will be presented on the exhibition website, in a double presentation format, daily between the 1st and 16th of June. At the same time, one can subscribe for the silkscreen edition on the same website.
In this project will be shown works by Ana Felício e João Lopes, Filipa Morgado, Gabriel Bôtto, Inês Bijóia, Joana Cruz, Luísa Pereira da Fonseca, Luíze Reina Jundze, Maria Fradinho, Maria Miguel von Hafe, Mariana Marques, Miguel Ângelo Marques, Pedro Nunes, Romie, Rui Faria e Filipe Mendes, Sebastião Casanova, Tânia Lopes Martins, Teresa Sampaio, Tomás Marreiros, João Duarte, João Amélio, Álmos Fekete, MVTILDE e o coletivo Luscofusco.
Cubículo is a curatorial project from the Cultural Programming and Production Bachelor's Programme.
For more info, write to cubiculo.esad.cr@gmail.com.
Design: Nayara Siler aka Animal Sentimental