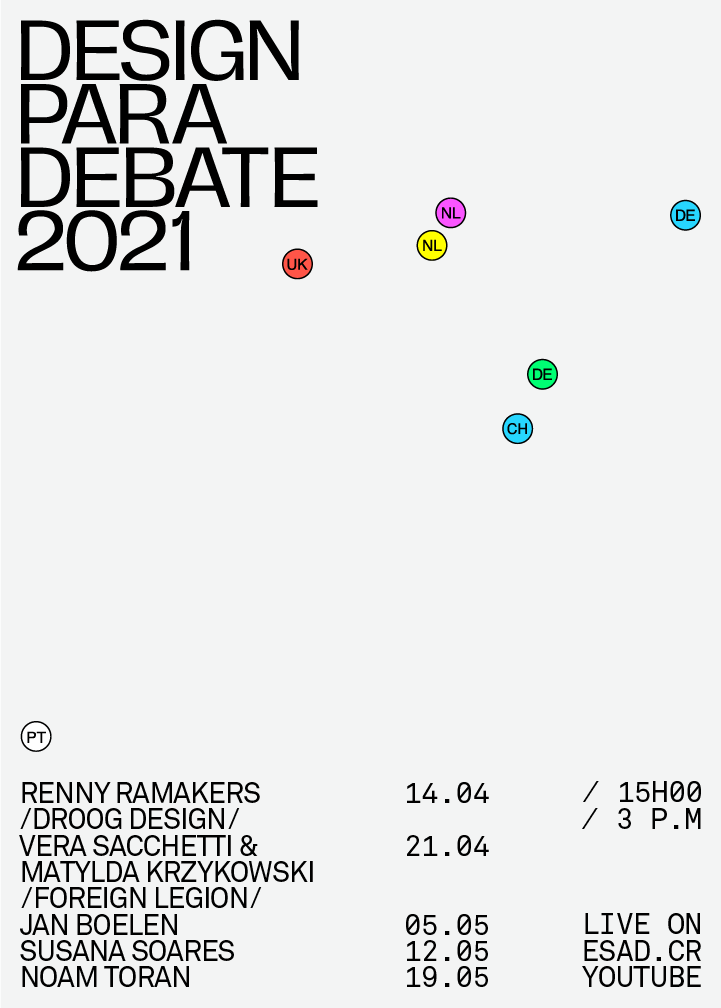 Design for debate 2021 | zoom chats with unlikely guests
In 2021 the pandemic no longer took us by surprise so we decided to return to the "Design for Debate" seminars with renewed enthusiasm. This is why we have chosen to take the distance communication platforms as a facilitator to extend the invitations to the international community and to bring to ESAD.CR, virtually, protagonists that represent different contemporary territories in design.
In its 3rd edition, this program will once again invite different interlocutors to conversations that focus on the potential of design as a facilitator to reflect and debate, proposing the need for a paradigmatic shift that moves design from applications to implications (social, cultural, eco-systemic, ethical, political, among others). Since its first edition, this reflection and experimentation has been developed together with a series of guests who, over the years, have been presenting their work in a critical way, reflecting on the ways in which this paradigmatic shift creates the need to also rethink design methodologies, bearing in mind that it is not always just about designing for commercial contexts led by the market, but also for broader social contexts.
"Design for Debate" is a series of talks organized by the 3rd Year Undergraduate in Industrial Design, Seminar Course lectured by Professors Carla Cardoso and Teresa Fradique.
The sessions, in English, will be broadcast live on ESAD.CR youtube channel
This is "Design for Debate" programme for 2021:
14/04, 15h00
Renny Ramakers (Droog Design)
Renny Ramakers is a Dutch art historian, curator, design critic, and co-founder and director of the Droog design foundation. Ramakers writes articles, gives lectures, initiates projects and curates exhibitions in the field of art and design. Last year, she curated the N'GOLÁ Biennial of Arts in West Africa and the pop-up exhibition Now Look Here in Amsterdam, both with contemporary artist from the Africa and the diaspora. Currently, her exhibition ONWARD&UPWARD is on show in Amsterdam, that is about the power of people to go on in times of uncertainty.
21/04, 15h00
Vera Sacchetti & Matylda Krzykowski (Foreign Legion)
Foreign Legion is a globally active curatorial initiative by Vera Sacchetti and Matylda Krzykowski.
Foreign Legion works in a wide range of formats, either existing or imagined, for the cultural and commercial sector.
Foreign Legion is interested in fictions, alternatives and new possibilities.
Vera Sacchetti (Lisbon, 1983) is a Basel-based design critic and curator. She serves in a variety of curatorial, research and editorial roles, most recently as program coordinator for the multidisciplinary research initiative Driving the Human (2020-2023) and curator of the initial edition of architecture festival Archipelago: Architectures for the Multiverse (2021). She is co-curator of TEOK Basel and one half of the curatorial initiative Foreign Legion. Sacchetti was associate curator of the 4th Istanbul Design Biennial, A School of Schools, curatorial advisor for the BIO 50 Biennial of Design in Ljubljana, Slovenia, and, as part of editorial consultancy Superscript, headed the "Towards a New Avant-Garde" event series at the 2014 Venice Architecture Biennale. She has recently edited Design as a Tool for Transition: The Atelier Luma Approach; and Design As Learning: A School of Schools Reader. Her writing has appeared in Disegno, Metropolis, and The Avery Review, among others. Sacchetti teaches at ETH Zurich and HEAD Geneva, and in 2020 joined the Federal Design Commission of Switzerland.
Matylda Krzykowski works with space: objects within space and ideas outside of space. Her work has pulled peripheral threads into the centre, and has cast new light on ideas at the centre of the discourses she nourishes. Although these discourses cannot be reduced to conventional spheres of operation, they could broadly be identified as curation, design, architecture, art and performance. Krzykowski seeks to instigate conversations, works to maintain their energy, and thereby affects results. These results are almost always entirely born from intense and generous collaboration. Her work has resonated globally. Krzykowski is organically interdisciplinary. (It's a way of doing, rather than a way of thinking.)
The tools she deploys include, but are not limited to: speech, instant messaging, archiving [see: Online Depot], art direction, theatre and performance [see: Design Date], scenography and choreography [see: Total Space], reportage [see: Things Might] and digital space treated as physical space [see: Desktop Exhibition]. The communication vehicles she employs include the exhibition, the intervention, the public talk, and Instagram, to name a few. Krzykowski travels widely to develop formats, participate in juries, to give lectures, curate exhibitions, and to conceive and deliver workshops in the cultural field. Wherever she may be, she sees the visible and reformats the unseen.
05/05, 15h00
Jan Boelen
Jan Boelen (1967, Belgium) is a curator of design, architecture, and contemporary art. He is rector at the Karlsruhe University of Art and Design (HfG), and artistic director of Atelier LUMA, an experimental laboratory for design in Arles, France. Boelen studied Product Design at the Media & Design Academy in Genk and is the founder and former artistic director of Z33 – House for contemporary art in Hasselt, Belgium. He was curator of the 4th Istanbul Design Biennial in Istanbul (2018) and initiated Manifesta 9 in Belgium (2012). Over the years, he has been fashioning projects and exhibitions that encourage visitor to look at everyday objects in a novel manner.
Boelen recently edited Social Matter, Social Design: For Good or Bad, all Design is Social (Valiz, 2020), and his writing addresses the implications of design in everyday life and how artistic practices shape the discipline.
12/05, 15h00
Susana Soares
Susana Soares (Lisbon, 1977) is a designer and educator exploring the social and ethical implications of the technological redesign of nature. Her work oscillates between incorporating living beings into projects that harness symbiotic relationships and a highly engineering perspective. Each project involves developing collaborative frameworks between design and emerging research. She employs design to create opportunities to develop technological fluency, empathy and engagement.
She is Senior Lecturer at London South Bank University and in addition has held research fellow positions at IMPACT! and Materials Beliefs.
After completing a BA in Industrial Design, she graduated at MA Design Interaction in Royal College of Art, London.
Susana work has been published within design and scientific publications such as Wired, New Scientist and Nature, and exhibited at the MoMA in NYC, MOMAK in Kyoto, Science Gallery in Dublin, Southbank Centre and The Royal Institution in London. Susana's work is in the permanent collection of MoMA New York.
19/05, 15h00
Noam Toran
Noam Toran's work involves the creation of intricate narratives developed as a means to disrupt hegemonic historiographies. Drawing from marginalised or neglected histories, Toran reflects upon the interrelations of memory, erasure, mythology, identity, and the essential force of storytelling as embodied in archives, film, literature, and performance. The work is materialized through dramatizations that take the form of installations, educational models, films, performances and scripts.
The work is exhibited, screened and published internationally, notably at the CNAC Pompidou (Paris), Kunsthalle Wien (Vienna), Venice Architecture Biennale, Victoria & Albert Museum (London), Schirn Frankfurt, Israel Museum (Jerusalem), Witte de With (Rotterdam), MuHKA (Antwerp), Museum of Modern Art (NYC), Lisbon Architecture Triennale, Musée d'Art Contemporain (St Etienne), Baltic Contemporary (Newcastle), Arnolfini Gallery (Bristol), Center for Contemporary Art (Tel Aviv), Musée D'Art Moderne (Luxembourg), Kulturhuset (Stockholm) and Haus der Kulturen der Welt (Berlin).