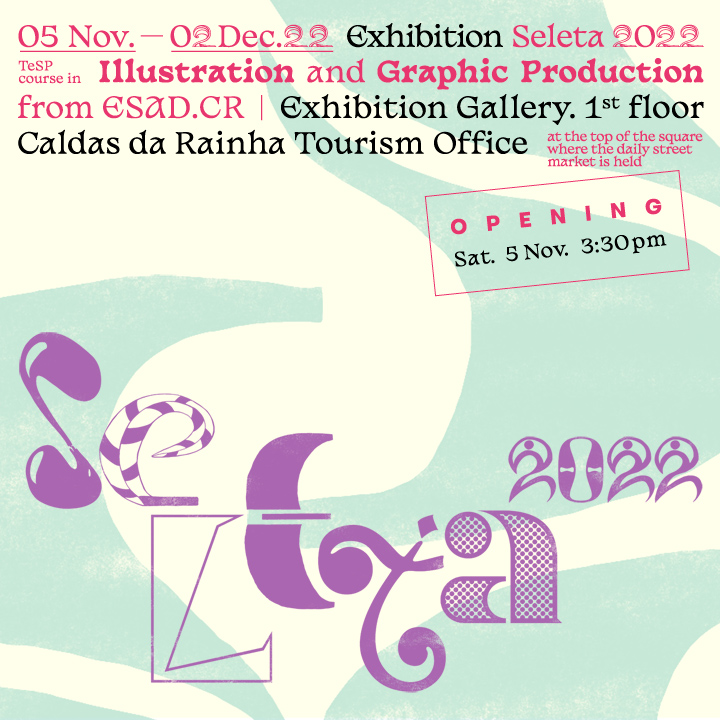 Exhibition Seleta 2022
05 November – 02 December
The exhibition Seleta 2022 opens on Saturday, November 5th, at 15h30, in the Exhibition Gallery of Caldas da Rainha Tourism Space, at the top of the square where the daily street market is held.
This exhibition gathers a selection of graphic works made by the students of the two years of the TeSP course in Illustration and Graphic Production of ESAD.CR, during the school year 2021-22.
The works on display are the result of the learning process and the acquisition of skills in the different curricular units of the course. They are examples of both, the creative capacity and plastic expression of the students, as well as the methodologies and techniques, from traditional to digital media, acquired throughout the professional higher technical training, in the field of illustration and graphic production.
The exhibition, with free entrance, will be open until the 2nd of December and can be visited at the following schedule:
Monday to Friday – 10am – 1.30pm | 2pm – 4pm
Closed on Saturdays, Sundays and public holidays (except Sat., 5th November).