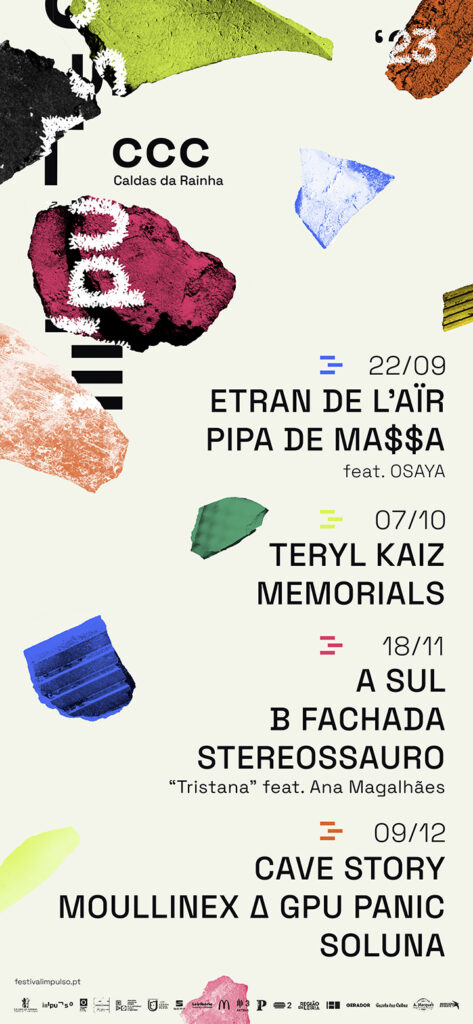 2nd Half
SEASON IMPULSO 23
Programming – CCC. Caldas da Rainha
September to December . 2023
Season Impulso is back to Caldas da Rainha, after more than 15 shows in 2023, with emerging and established names of international and Portuguese music. Happening from next September 22nd, with musical programming, cinema and many surprises until the end of the year.
This is the second part of the season of the renewed format of Festival Impulso, with more than 18 artists having already passed through the Cultural and Congress Center of Caldas da Rainha, which now join the 12 artists announced.
The first show will take place on the 22nd of September in the open air, on a night of concerts at Parque D. Carlos I, in the heart of Caldas da Rainha. To mark the end of summer, we turn to the so-called "desert blues", or rather desert rock, with Etran de L'Aïr, a band from Niger, who promises to leave the audience dancing on a special date with free admission.
The first night will also feature the show of Pipa de Ma$$a ft. Osaya, Portuguese artist and producer residing in Berlin, one of the future talents of emerging global music.
After the premiere date of Season Impulso, the schedule continues with the duo Teryl Kaiz and the debut on national soil of the British Memorials on October 7th; A Sul, B Fachada and Stereosauro on a triple date on November 18th; Cave Story, Moullinex ▵ GPU Panic and Soluna on December 9th, closing the season in festive mode.
The organization of Impulso explains "we are very happy with this format, which has been a success and had an excellent reception by our public. It allows us to maintain the diversity and quality of the programming that we have been presenting, while promoting new artists, premieres and many surprises throughout the year."
The partnership with Doclisboa also returns in September, with film sessions and conversations with directors happening between ESAD.CR and CCC.
Impulso 2023 is organized by Pulsonar Associação in a co-organization with the Town Hall of Caldas da Rainha and in partnership with ESAD.CR (School of Arts and Design, Polytechnic of Leiria), tickets are now available online through the BOL network.
+ Info:
https://www.festivalimpulso.pt/
@festival_impulso