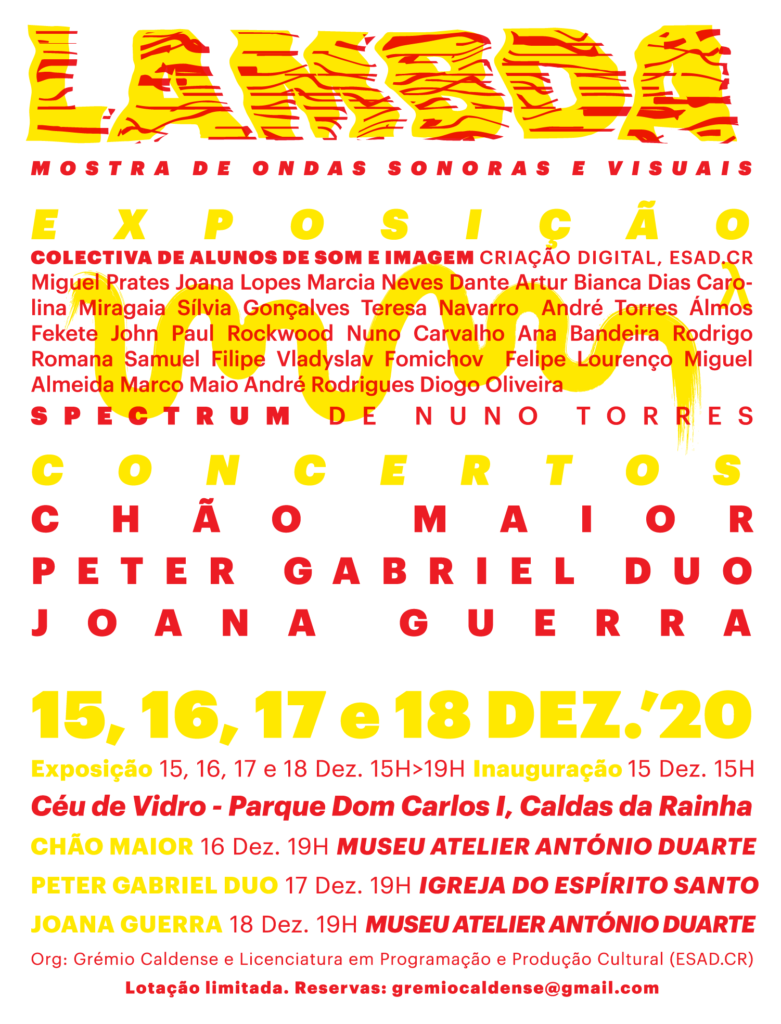 LAMBDA – Mostra de Ondas Sonoras e Visuais
LAMBDA – Mostra de Ondas Sonoras e Visuais is an artistic event that results from a partnership between Grémio Caldense and ESAD.CR. This second edition presents a program of exhibitions and concerts in three spaces in Caldas da Rainha: Céu de Vidro, Centro de Artes and Espírito Santo Church. The exhibition, which takes place in Céu de Vidro, brings together the project "Spectrum" by the author by Nuno Torres, member of Osso Colectivo, and a group of students from the Sound and Image bachelor, under the Digital Creation course coordinated by professor Adriana Sá, with students Miguel Prates, Joana Lopes, Márcia Neves, Dante Artur , Bianca Dias, Carolina Miragaia, Sílvia Gonçalves, Teresa Navarro, André Torres, Álmos Fekete, John Paul Rockwood, Nuno Carvalho, Ana Bandeira, Rodrigo Romana, Samuel Filipe, Vladyslav Fomichov, Felipe Lourenço, Miguel Almeida, Marco Maio, André Rodrigues and Diogo Oliveira.
The LAMBDA program also includes three concerts proposed by Grémio Caldense, which will be presented at the António Duarte Museum (Arts Center) and at the Espírito Santo Church. Chão Maior, a project directed by Yaw Tembe, which brings together Leonor Arnaut, Norberto Lobo, João Almeida, Yuri Antunes and Ricardo Martins in sextet; Peter Gabriel Duo, free jazz formation that brings together Gabriel Ferrandini and Pedro Sousa; and Joana Guerra, who presents her lattest album "Chão Vermelho", with the participation of Maria do Mar and Carlos Godinho.
Entries to the event are limited to the capacity of the spaces and subject to the safety regulations of the General Directorate of Health. The concerts will be broadcast live via streaming on the platforms available through the Facebook page of Grémio Caldense.
The organization and production of this event counts with the participation of the students of the Degree in Programming and Cultural Production.