European Commission approves the European University led by the Polytechnic of Leiria
The Regional University Network – European University (RUN-EU) lead by Polytechnic of Leiria in the project of European University was approved by European University. With financial support from the ERASMUS+ and Horizon 2020 programs, they enhance the quality, inclusion, digitalization, and attractiveness of European higher education. This new university is composed by higher institution from 6 countries that besides the Polytechnic of Leiria includes Politécnico do Cávado e do Ave, from Portugal; Technological University of the Shannon (TUS), from Ireland; a Széchenyi István University (SZE), from Hungary; a Häme University of Applied Sciences HAMK, from Finland; NHL Stenden University of Applied Sciences, from The Netherlands and FHV Vorarlberg University of Applied Sciences, from Austria.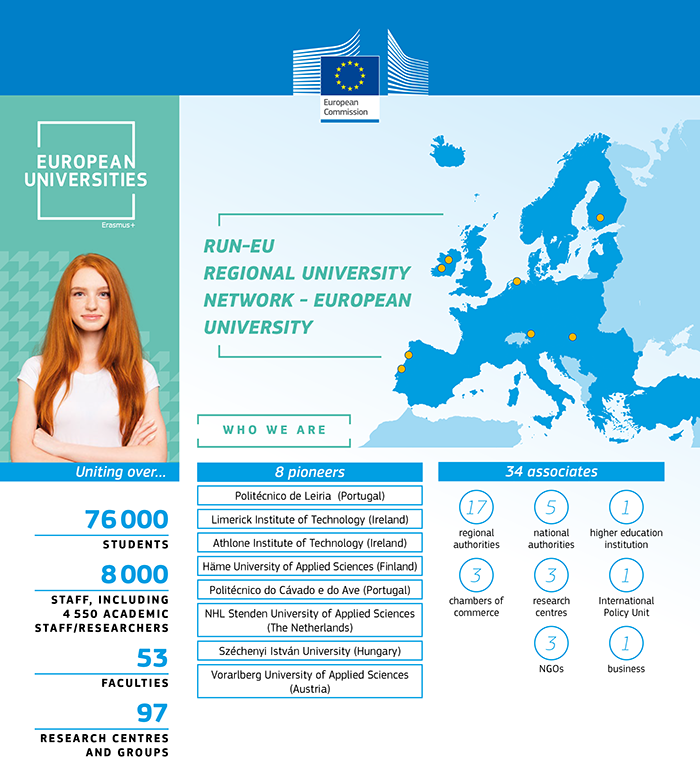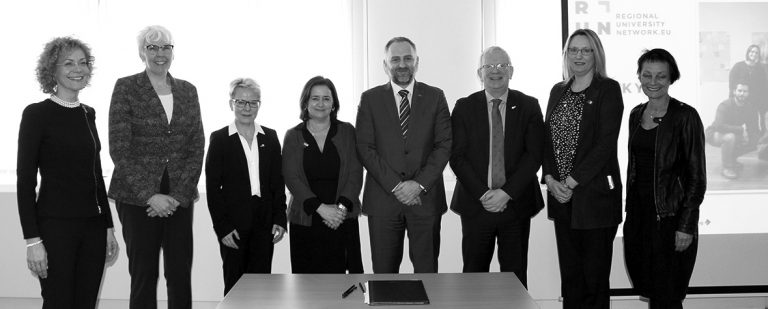 "European Universities will deepen cooperation between their institutions, their students and staff and pool online and physical resources, courses, expertise, data, and infrastructure. Working closer together will leverage their ability to tackle the challenges they are faced with during the recovery, and beyond. It will help them to foster inclusive green and digital transitions for the benefit of their students and all Europeans."
RUN-EU
Delivering Future and Advanced Skills for Societal Transformation in the EU Regions
The mission is supported through the development of Future and Advanced Skills Academies (FASA), which promote and develop joint student-centred, challenge and work-based flexible learning activities, including Short Advanced Programmes and European Degrees, through collaborative and pedagogically innovative inter-university and interregional approaches to higher education; European Innovation Hubs (EIH), which will stimulate and create joint interregional research, innovation and regional stakeholder engagement projects and activities across the alliance; European Mobility Innovation Centre (EMIC), which will build and share expertise in innovative physical and virtual mobility initiatives and will assess the quality of new mobility activities.