an institution
At the center of the World!
Portugal can choose between being at Europe's periphery or at its center. At Politécnico de Leiria we choose to be at the center of the world. The internationalization strategy that we follow has turned us into a multicultural Polytechnic, with students coming from all over the world – from America to Asia, from Europe to Africa – and cooperation agreements in all the continents.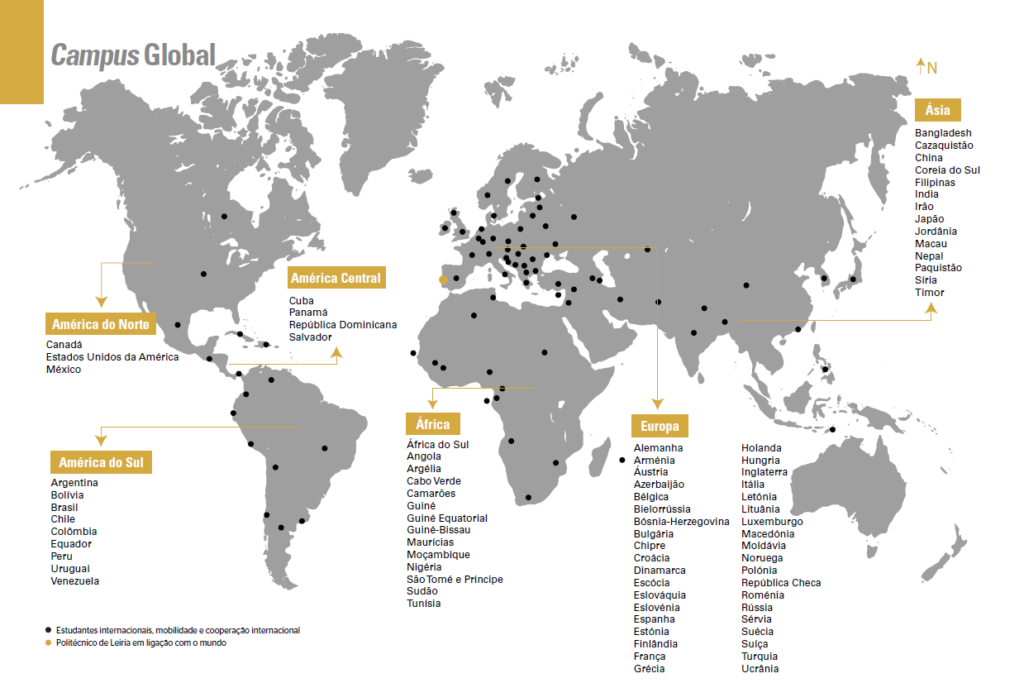 Politécnico de Leiria internationalization has been fostered through:
the promotion of training offer to international students;
the promotion of mobility programs with students as well as with students, researchers and staff;
the promotion of joint research projects;
the promotion of double and joint programmes;
the development of cooperation projects;
the participation in international networks.
---
GMCI
International Cooperation and Mobility Office
The International Cooperation and Mobility Office (Gabinete de Mobilidade e Cooperação Internacional – GMCI) is a coordinating, supervision and support structure to all of Politécnico de Leiria initiatives of internationalization. The roles of GMCI are:
To coordinate and support Politécnico de Leiria endeavors in the internationalization of education, cooperation and academic mobility.
To establish contacts with several international institutions within GMCI's scope, aiming at the establishment / reinforcement of partnerships, as well as the establishment of new cooperation agreements;
To promote. support, implement and supervise the mobility of IPLeiria and international students, teachers and administrative staff;
To promote and manage de processes of application to international mobility, including scholarships;
To develop promotional activities, while acting as an up-to-date information center in academic cooperation and academic mobility;
To act as the link for both networking and information with partner universities, companies and international networks.