politécnico de Leiria
Strategy
Portugal can choose between being at Europe's periphery or at its centre. At Politécnico de Leiria we choose to be at the centre of the world.
Politécnico de Leiria is a multicultural higher education institution, with students coming from all over the world – from America to Asia, from Europe to Africa – and cooperation agreements in all continents.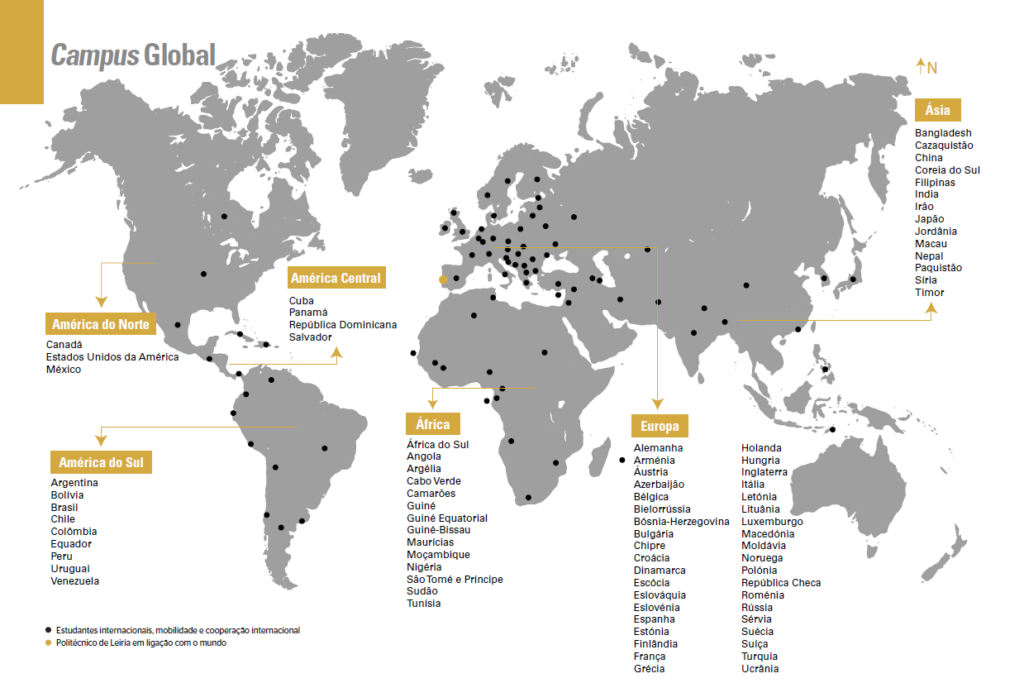 A global higher education institution in the centre of Portugal
We promote training opportunities among our international students
We promote mobility programmes with students, as well as with researchers and staff
We engage in joint research projects
We offer double and joint programmes
We develop cross-border cooperation projects
We participate in international networks.
---
politécnico de leiria
Global Academy
Politécnico de Leiria's Global Academy is an international network of high schools that have signed an international cooperation agreement with Politécnico de Leiria. Based on this agreement, students from these schools are allowed to apply to our study programmes as long as they meet all the higher education entry requirements of their own country.
As members of the Global Academy network, these schools must promote Politécnico de Leiria's programmes amongst their students and select and guide them through the application process. Global Academy's students usually apply to Politécnico de Leiria under the International Student Status, but they can also do it under another lawful agreement.

politécnico de leiria
International Mobility and Cooperation Office
The Politécnico de Leiria's International Mobility and Cooperation Office coordinates, supervises and supports all activities related to our internationalization strategy.
The roles of the International Mobility and Cooperation Office are:
To coordinate and support Politécnico de Leiria endeavors in the internationalization of education, cooperation and academic mobility;
To establish contacts with several international institutions, to establish/reinforce partnerships, as well as to establish new cooperation agreements;
To promote, support, implement and supervise the mobility of national and international students, teachers and technical staff;
To promote and manage de processes of application to international mobility, including scholarships;
To develop promotional activities, while acting as an up-to-date information center in academic cooperation and academic mobility;
To act as the link for both networking and information with partner universities, businesses and international networks.