international students
About Portugal
As one of the safest and most welcoming countries in Europe and the world, Portugal has all you need to start the best adventure of your life.
Tasty Mediterranean food, sunny days the whole year, beautiful natural landscapes and a vibrant cultural life – this is Portugal, a diverse nation with about 10 million inhabitants.
Known for its rich culture and traditions, Portugal is a predominantly Roman Catholic country that has been influenced by the Celtics, Lusitanians, Phoenicians, Germanics, Visigoths, Vikings, Sephardic Jewish, Moorish and Africans, resulting in a highly open-minded and global nation.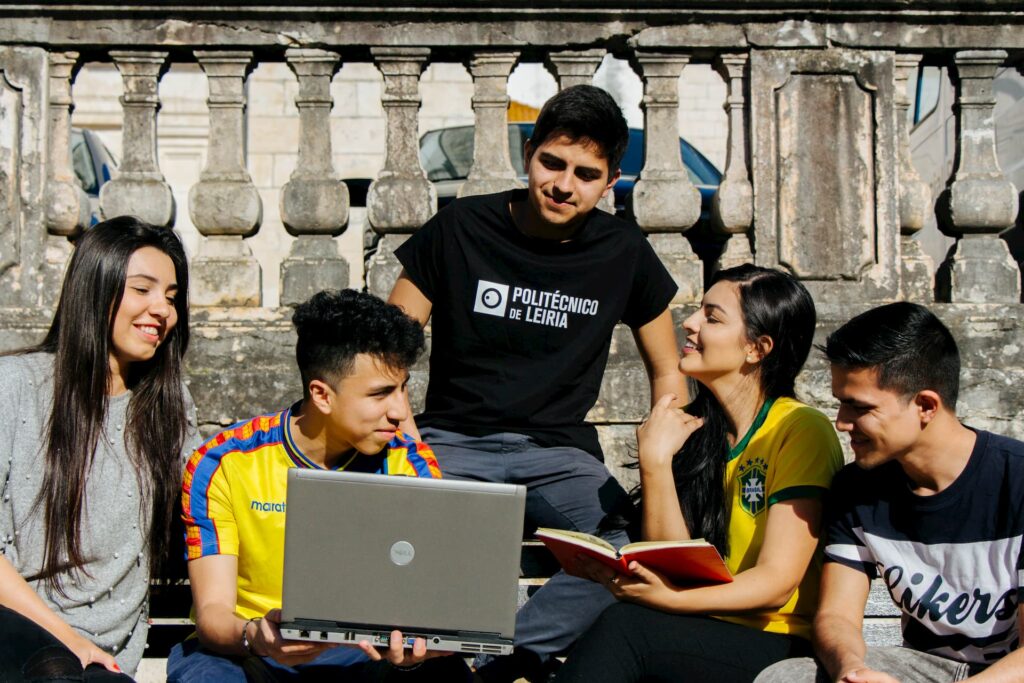 Location
Located in the extreme southwest of Europe, surrounded by an extensive coastline on the Atlantic Ocean, limited at the north and east by Spain, and at west and south by the Atlantic Ocean. The territory of Portugal includes the Azores and Madeira islands.
Offical language
Portuguese
Climate
We would be lying if we didn't say one of the best reasons to study in Portugal is that it has sunny days the whole year.
Portugal's average daytime temperatures are between 5ºC and 15ºC in the Winter and between 25ºC and 35ºC in the Summer.
The summers are mild in the highlands of the north and in the coastal region of the far north and centre regions. The autumn and winter are typically windy, rainy, and cool, being colder in the northern districts and central provinces, where you can feel freezing temperatures during the colder months.
In the South, you'll experience very hot and long summers, short winters and very little rainfall.
In Madeira, there is a Mediterranean-type climate with mild and pleasant temperatures throughout the year, while the Azores have a temperate maritime climate with abundant rainfall.
Religion
Portuguese Constitution emphasises freedom of expression, religion, and conscience. Churches and religious communities are separate and independent of the government.
For historical reasons, which come from the foundation of Portuguese nationality, the Catholic Church plays a central role in Portuguese culture.
Currency
Euro – €
---
about portugal
Your monthly expenses
Leiria is one of the most affordable cities in Portugal for students. How much you'll spend will depend on whether you choose on-campus or off-campus services – and, of course, on your own specific needs.
On-campus
| | | | |
| --- | --- | --- | --- |
| City | Halls of Residence | Canteens | Public Transport |
| Leiria | €146 | €200 | €15.25 (monthly pass) |
| Caldas da Rainha | €146 | €200 | €22 (80 trips) |
| Peniche | €146 | €200 | €14.95 (monthly pass) |
Off-campus
| | | | |
| --- | --- | --- | --- |
| City | Accommodation | Groceries | Public Transport |
| Leiria | €150 – €260 | €150 – €300 | €15.25 (monthly pass) |
| Caldas da Rainha | €120 – €200 | €150 – €300 | €22 (80 trips) |
| Peniche | €120 – €200 | €150 – €300 | €14.95 (monthly pass) |
---
about Portugal
How to get to Politécnico de Leiria
From the Lisbon Airport to the Sete Rios bus station:
From Lisbon Sete Rios bus station to Leiria:
Bus from Lisbon to Leiria (1h45)
Bus from Lisbon to Caldas da Rainha (1h15)
Bus from Lisbon to Peniche (1h30)
By car:
From Lisbon to Leiria (1h30)
From Lisbon to Caldas da Rainha (1h15)
From Lisbon to Peniche (1h00)
---
about portugal
How to open a bank account
When opening a bank account in Portugal, you need to submit the following documents:
Proof of Portuguese tax identification number
Copy of your ID (e.g. passport)
Proof of address (e.g. utilities bill)
Proof of employment s or scholarship
By opening a Portuguese bank account, you'll be given a debit card that will let you make payments and purchases online and in person.
Banks are normally open from Monday to Friday (8h30 until 15h00).
They close on weekends and public holidays.
---
about portugal
Public holidays
1 January | New Year's Day
March/April | Carnival [optional]
March/April | Good Friday and Easter Day
25 April | Carnation Revolution Holiday
1 May | International Workers' Day

10 June | Day of Portugal, Camões, and the Portuguese Communities
15 August | Day of the Assumption of Blessed Virgin Mary
8 December | Immaculate Conception
25 December | Christmas Day
Get ready for the best adventure of your life